Ideo Selects


Part of the permanent collection at the Cooper-Hewitt National Design Museum, IDEO invites the viewer to explore how a designer came to understand the end user's needs and drew upon them to create an object. Experience firsthand the elements of design thinking.
Wikinomics
How Mass collaboration Changes Everything
Interest in "open innovation" is exploding. Many questions abound, as companies grapple with how to make its core concepts work for their own unique issues and challenges. Now is the time to revisit Don Tapscott's book. He provides a well researched primer on mass collaboration possibilities and sheds important light on the importance of openness for growth and competitiveness.
The Invincible Apple: 10 Lessons from the Coolest Company Anywhere
By Farhad Manjoo
Fast Company, July/August 2010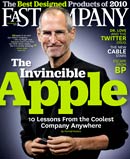 It's not as easy as it looks, but any company serious about growth should study the Apple model. Manjoo provides an insightful look inside Apple's incredible success.
Can You Say What Your Strategy Is?
HBR—April 2008
It's a dirty little secret: Most executives cannot articulate the objective, scope and advantage of their business in a simple statement. If they can't neither can anyone else. This timeless article provides a valuable primer.